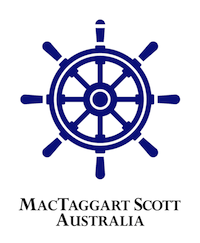 MacTaggart Scott Australia - Reception Sponsor
MacTaggart Scott is a privately owned Scottish engineering company established in 1898, and based near the beautiful City of Edinburgh.
With over 100 years in business and satisfied customers in 27 countries, the quality and reliability of our products make them preferred by many navies. Exports play a significant and very important part of our business.
MacTaggart Scott primarily supports the Naval Defence and Marine industries, providing complete solutions to customer needs from analysis of initial customer requirements right through to commissioning and through life support.
MacTaggart Scott has recently opened an Australian base. The Adelaide team will provide support to Company equipment currently in service with the Royal Australian Navy. MacTaggart Scott Australia will expand as its local defence business increases over the next five years. During this period MacTaggart Scott also expects to enter the Australian natural resources market; oil, gas and mining already feature in the Company's UK business portfolio.