AGM
23rd Annual General Meeting - 10th November 2021(TBC)
The 23rd Annual General Meeting (AGM) of the SIA will be held between 0800 and 0845 on Wednesday 10th November 2021 at the Adelaide Convention Centre and streamed live via the Whova app. Attendance is restricted to members of the SIA whose subscriptions are paid to 30 June 2022 or later. All attendees must register on the Registration page. Select the ticket named 'SIA Member Annual General Meeting' and be ready to supply your SIA member number and the date to which your subscriptions are paid. Just prior to the 2021 AGM you will also be able join the AGM on the Whova app or on the Web App.
The AGM will be found by navigating to Community/Meet Ups and Virtual Meets/SIA Annual General Meeting as shown in the image below. Once there, click Details.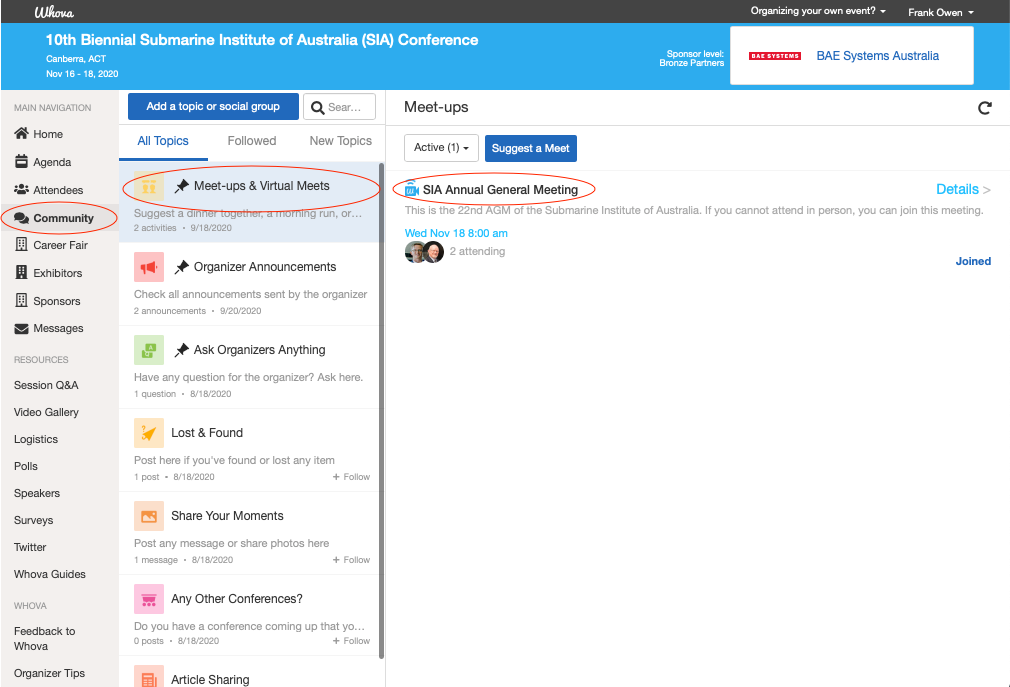 Agenda
Once drafted, the AGM agenda will be available for download via a posted link on this page or on the Whova app.
Apologies and Proxies
Click here to register an apology and (if desired) assign a Proxy for the AGM.
If you still wish to lodge a signed Proxy (noting the extra administrative effort this takes), click here to download a copy of the Proxy Form (104 KB PDF). This form can be completed on your screen and then printed for your signature. Click on the fields to activate the data entry.

All Proxies are to be lodged with the Secretary no later than 24 hours prior to the AGM.
Committee Nominations
Click here to nominate or second a Candidate for a position on the SIA Executive Committee or to accept a nomination as a candidate.

Nominations (with proposer/seconder actions complete) for Committee positions are to be lodged with the Secretary no later than 7 days prior to the AGM (i.e.3rd November 2021). All positions will be declared vacant except for the President, Vice President and Treasurer who were all elected for a two year term in 2020.
Constitution
Click here to download a copy of the SIA Constitution (432 KB PDF). The latest version is Issue 5 as amended following the 15th AGM (16 Oct 13).