Program and Theme
The theme of this year's conference is 'Home Grown Undersea Technology – How Can Australian Academia and Industry Provide a Capability Edge?'
Monday 8th Nov: Industry and Academia Visits
Two bus tours are available as an optional addition to your SubSTEC registration: Osborne (WEST) and Tonsley (SOUTH).
The Osborne (WEST) tour will visit University of Adelaide, University of South Australia (UniSA), ASC and PMB Defence.
When registering for the Osborne (WEST) tour, additional security/nationality information will be required. Photo ID will be required for admission to ASC.
Osborne

(WEST)

Tour

Location

Tonsley

(SOUTH)

Tour

Location

09:15

Meet at proposed location

Meet at proposed location

09:30

10:30

10:30

Travel / Refreshments

11:00

12:00

Lunch

12:00

Travel to city

13:00

Drive to Osborne

12:30

Lunch

13:30

13:30

14:30

PMB Defence

14:30

15:30

Travel back to city

15:00

16:00

Drop off city

16:00

Drop off city
The visit to the University of Adelaide will involve a presentation at the university's Institute for Photonics and Advanced Sensing (IPAS).
ASC Pty Ltd, formerly the Australian Submarine Corporation, is an Australian government business enterprise involved with Australian naval shipbuilding, headquartered in Osborne, South Australia. It is notable for the construction and maintenance of the Collins-class submarine fleet.
PMB Defence is a leading supplier of high quality energy - and specialised engineering solutions - for submarine platforms. Formed in 1989, PMB Defence began with a sole focus on producing the Main Storage Battery for the COLLINS Class of submarines. Since 1989 PMB has continuously supplied Main Storage Batteries for the COLLINS Class, whilst growing an in-country engineering capability. This has progressively evolved to be a dependable supplier of engineering services, battery and niche product solutions for both current and future submarine capabilities. Its state-of-the art production, research and development and engineering facilities are situated at the heart of the Techport opposite ASC, the builder of Australia's COLLINS Class submarines, and Air Warfare Destroyers.
SAGE delivers agile and innovative electrical control systems for the Australian Defence industry, including Defence Primes, Original Equipment Manufacturers and other SMEs. SAGE has considerable experience in Naval, Air Force and land-based activities, The company has successfully delivered a broad range of end-to-end defence solutions. It specialises in system integration of electrical control systems | LV switchboard & control panel manufacture | Set to work support | Through Life Support (TLS) | Data analytics | Training
ACC Floor Plan and Draft Program - Subject to amendment as necessary.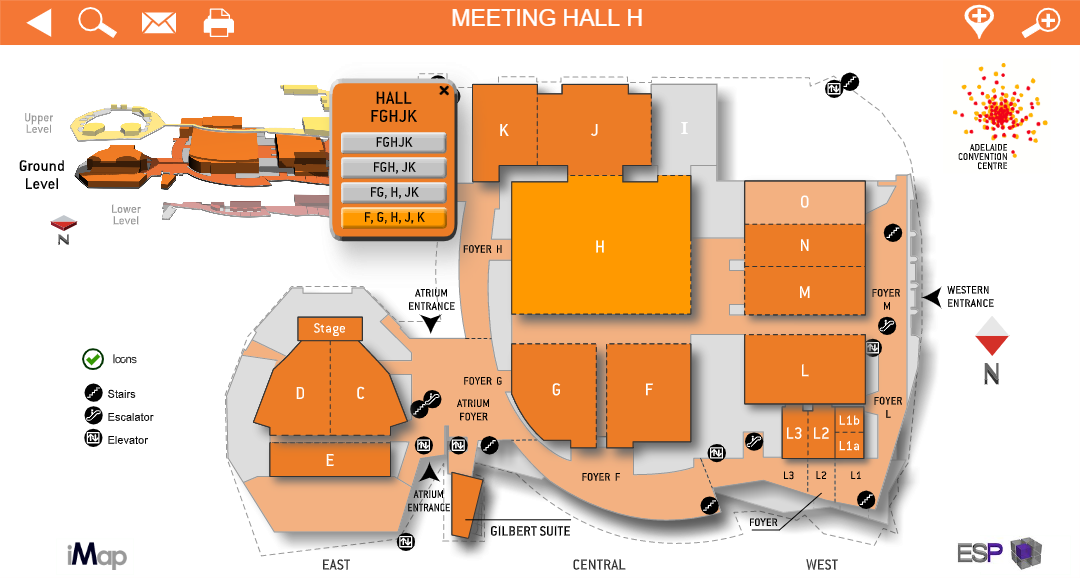 SubSTEC6 - Adelaide Convention Centre - Monday 8th

– Wednesday 10

th

November 2021 - Program Overview

Monday 8th

Tuesday 9th

Wednesday 10th

Time

Event

Time

Room

Event

Time

Room

Event

0900 - 1600

University/Industry Site Visits and Tours for SubSTEC6 Conference Participants

0815 -1315

Hall M

Conference Opening/Plenary Sessions

0800-0845

Rm L2/L3

SIA Annual General Meeting

See detailed breakdown below

1315- 1400

Halls N & O

Lunch

0845-0900

Hall M

Opening Comments & Admin

1400 - 1630

Strm A Hall M Strm B Rm L2/L3

Technical Presentations

0900-0930

Hall M

Gold Sponsor's Address

(two parallel streams)

0930– 1230

Strm A Hall M

Strm B Rm L2/L3

Technical Presentations

(two parallel streams)

1630 -1700

Hall M

Shadow Minister for Defence

1230 - 1330

Halls N & O

Lunch

1700-1715

Hall M

Sponsor Recognition

1330 - 1630

Strm A Hall M

Strm B Rm L2/L3

Technical Presentations

(two parallel streams)

1830 - 1900

Foyers L & M

Pre-Dinner Drinks

1630 - 1650

Hall M

Reconvene, Summary and Close

Student Poster Competition

CDRE Mark Sander Rtd. SIA President

Presentation of Prizes

1800 - 2000

Opening Reception

1900- 2230

Hall L

Conference Dinner

Halls N & O

After Dinner Speaker

Professor Emily Hilder

Chief Maritime Division

Defence Science & Technology Group, ADO
Time

Room

SubSTEC6 Tuesday 9th

November Detailed Schedule

0730-0815

Foyers

Registration & Coffee

L & M

Session 1

All Plenary Sessions in Hall M

SubSTEC6 Launch - Plenary

0815 - 0830

Welcome, Opening Comments, Admin

CDRE Steve Davies RAN Rtd. (MC) and CDRE Mark Sander RAN Rtd. – President SIA

0830 - 0845

Welcome to South Australia

Hon Steven Marshall MP – Premier of South Australia (invited)

0845- 0915

Keynote Address

Hon Melissa Price MP – Minister for Defence Industry

Session 2

Setting The Scene - Plenary

0915 - 0945

State of the Union

CDRE Tom Phillips, Director-General Submarines, RAN,

0945 - 1015

TBA

TBA

1015-1045

Halls N &O

Break

Session 3

All Plenary Sessions in Hall M

Technology Innovation & Transition in Submarine/Undersea Warfare (USW) Science, Technology & Engineering - Plenary

1045 - 1115

Technology Innovation and Transition in Australia

Prof. Catherine Foley PhD AO PSM, Australia's Chief Scientist

1115 - 1145

Defence Strategy for Innovation, Science and Technology

Dr David Kershaw PhD, Chief Science Engagement & Impact, DSTG

1145 - 1215

Defence Innovation and Industry

Andrew Hodgkinson Assistant Secretary Defence Capability & Innovation, SPIG

1215 - 1245

ADO & Academia – Collaborative R&D – Innovative Maritime Programs

Michael van Balen AO, Principal Australian Maritime College, UTAS

1245 - 1315

Superior sovereign capability - some perspectives.

John Chandler AM CSC CSM, Program Director Future Submarine Combat System Director, Lockheed Martin Australia
Time

Room

Event

1315 -1400

Halls N & O

Lunch

Session 4 – Tuesday 9th November 2021 – Day 1 - Science & Technology

Session 4

Room

Title

Presenter

Room

Title

Presenter

1400-1430

All Strm A

4A-1

Maritime Industry Research Past, Present & Future – Collaborations between Academia and Industry

Prof Johnathan Binns

All Strm B

4B-1

Remote Undersea Surveillance STaR Shot

Dr Sam Davey

Presentations in Hall M

Australian Maritime College, UTAS

Presentations in Rooms L2/L3

DST Group,

1430-1500

4A-2

Partnering to develop a world-class Hydrodynamics Capability for Australia

David Pook

4B-2

Underwater Networks for Connecting Robotic Autonomous Systems

Sandro Ghiotto

DST Group

L3Harris

1500-1530

Afternoon Break in Halls N & O

1530-1600

4A-3

TBA

TBA

All Strm B

4B-3

Control System Integration in Underwater Vehicles for Complex Intervention

Peter Davis, Saab

Anders Ridley-Smith

Blueprint Lab

Presentations in Rooms L2/L3

1600-1630

4A-4

An Integrated Framework to Support the Realisation of Enduring Leading Edge Submarine Capability

David Brown

4B-4

ASW Sensors and the Internet of Things (IoT)

Systems Planning & Analysis (Australia)

Horden Wiltshire

Acacia Systems

Sessions 5, 6 & 7 – Tuesday 9th November 2021 – Day 1 - Plenary

Session 5

1630-1700

Hall M

The View from the Opposition

The Hon Brendan O'Connor MP. Shadow Minister for Defence

Session 6

1700-1715

Hall M

Sponsor Recognition

CDRE Mark Sander RAN Rtd. – President SIA

Session 7

1830-1900

Foyers L & M

Pre-Dinner Drinks

CDRE Mark Sander RAN Rtd. – President SIA

Student Poster Competition - Presentation of Prizes

Session 8 – Wednesday 10th November – Day 2 – Science & Technology
Session 8-1

0845-0900

Hall M

Welcome, Opening Comments, Admin

CDRE Steve Davies RAN Rtd. (MC)

CDRE Mark Sander RAN Rtd. – President SIA

Session 8-2

0900-0930

Hall M

Gold Sponsor's Address

Gold Sponsor – Defence West

0930-1000

All Stream A

8A-3

Real world advice for maximising Australia's Submarine Main Storage Battery Capability

Greg Carmody

All Stream B

8B-3

Diamond-Doped Optical Fibres for Remote Undersea Magnetometry

Prof Brant Gibson

Presentations in Hall M

Pacific Marine Batteries Defence

Presentations in Rooms L2/L3

RMIT University

1000-1030

8A-4

Towards an Indigenous Alternative Main Storage Battery

Dr Steven Pas

8B-4

Towards Undersea Operations of a Quantum Magnetometer for Undersea Surveillance

Dr Chris Perrella

DST Group,

University of Adelaide

1030-1100

Morning Break in Halls N & O

Session 9 – Wednesday 10th November – Day 2 – Science & Technology

1100-1130

All Strm A

9A-1

Sovereign Submarine Research Capability for Near Free Surface Hydrodynamics

Dr Alexander Conway

All Strm B

9B-1

Next-Generation Integrated Photonic Sensors for Underwater Communications, Navigation & Awareness

Prof Warwick Bowen

Presentations in Hall M

Australian Maritime College, UTAS

Presentations in Rooms L2/L3

University of Queensland

1130-1200

9A-2

The Australian Research and Experimental Submarine Program (ARES)

Assoc. Prof. Eric Fusil

9B-2

A High-Rate Reconfigurable Underwater Acoustic OFDM System Based on USRP and Python

Prof Yue Rong

University of Adelaide

Curtin University

1200-1230

9A-3

Prospects for Submarine Detection with High Frequency "Over-The-Horizon-Radar"

Prof Stuart Anderson

University of Adelaide

9B-3

Scrambled Direct-Sequence Spread-Spectrum Underwater Acoustic Communication System

Prof Peng Chen

Curtin University

1230-1330

Halls N & O

Lunch

Session 10 – Wednesday 10th November – Day 2 – Science & Technology

1330-1400

All Strm A

10A-1

An International Collaboration Benchmarking Target Echo Strength Theoretical Prediction Models and measurements on Scaled Submarine Shapes

Dr Nadine O'Brien

DST Group,

All Strm B

10B-1

Designing Submarine Habitable Spaces for Increased Productivity and Wellbeing

Dr Peter Schumacher

Presentations in Hall M

Presentations in Rooms L2/L3

Prof Siobhan Banks

Univ.of South Australia

1400-1430

10A-2

New Generation of Active Anti-Fouling Coatings for Preventing Marine Growth

Prof Mats Andersson

10B-2

Optimising Submarine Sleeping Berths: Impact of Bunk Orientation and Motion on Sleep and Cognitive Performance

Prof Siobhan Banks

Flinders University

Dr Raymond Matthews

Univ. of South Australia

1430-1500

10A-3

Feasibility of a Multi-Function Electronically Steered Array for Electronic Support and Communications in a Submarine Environment

Dr Adrian Sutinjo

10B-3

Assessing Space Requirements of Future Submarines at the Design Stage

Dr Francois Fraysse

Curtin University

Dr Peter Schumacher

Univ. of South Australia

1500-1530

Halls N & O

Break

Session 11 – Wednesday 10th November – Day 2 – Science & Technology

1530-1600

All Strm A

11A-1

Emerging Technologies to Support Noise Reduction in Submarines

Norman Voss

All Strm B

11B-1

Risk Management for Emerging Submarine Technologies

Mick Warren

Presentations in Hall M

IMI Critical Engineering

Presentations in Rooms L2/L3

Frazer-Nash Consultancy

1600-1630

11A-2

Lighting the way - Operational Autonomy for Submarines using Distributed Fibre Optic Sensing and Prescriptive Analysis

Dr John Arkwright

11B-2

Recommendations for Sonar Tank Design and Low Frequency Behaviour

Dr George Raicevich

Sonartech Atlas Pty Ltd

Arkwright Technologies
Tertiary

Research Student Poster Competition (SPC) – Currently Accepted Entries (closing 10

th

September)

Title

Presenter

Coordinated Trajectory Control Methods for Multiple Heterogeneous UUVs

John Bennett, Flinders University

Reaching the Fundamental Sensitivity Limit of Optical Hydrophones

Johnathan Hedger, University of Adelaide

High Frequency Magnetic Anomaly Detection for Anti-Submarine Warfare

Kyle Netz, University of Adelaide

Strategies for Integrated Use of Simulation Tools for Development and Verification in Designing Human Spaces in Capsule Environments

Simon Modra, UniSA, SA

Assessing and Training Human Perceptual Expertise for the Identification of Biosecurity Threats

Varun Gandhi, Murdoch University, WA

Low-Observable Submersible Seaplane for Electronic Intelligence (LOSSEI)

SBLT Nicolas Carroll ADFA/UNSW

Reduction of Risky Plume Induced by Submarine Mast

Ahmed Shama ADFA/UNSW